DOUBLEBOIS BEAMERS TURTLE BAG SESSION

DOUBLEBOIS POLERS NW CLUB RAISING MONEY FOR CANCER RESEARCH ON ROUTE TO 12 MILER AND LOOE

AND RELAX!

MADE FOR EACH OTHER - NORDIC WALKERS AND THE SW COASTAL PATH!

DOUBLEBOIS NORDIC WALKERS

DOUBLEBOIS BEAMERS CLUB

KETTLE BELLS RESTING!

ITS BEAMFIT!

ALL READY - ARE YOU?

GYM PREPS

LESU TURTLE BAG READY TO GO!

NORDIC WALKERS FINDING FOOD

BARBADOS EXPED

JERSEY EXPED
THEN AND NOW - CORBIERE, JERSEY CI


JEREMY VINE SHOW - NORDIC WALKING POLES AND THE ROCKET MANS PIANO!

BATTERSEA POLERS

BLACK MOIUNTAINS EXPED

CARMONA EXPED - SPAIN
AND RELAX - SEVILLE, SPAIN

VILLAGE POLERS CLUB
OUR BUDDY TOM RUTLIN - INVENTOR OF EXERSTRIDING

SEVILLE EXPED

LESU BOOTS

THAMES EXPED - ST KATHERINES DOCK

BATTERSEA POLERS CLUB

THERESA WITH EMA POLERS CLUB - CANARY WHARF

THE FIRST T SHIRT!

WELLNESS TO DARTMOOR

MACHU PICHU EXPED
MAKING IT ALL POSSIBLE - OUR GUIDE AND GR8 BUDDY DAVID
MADE IT - COMPLETION OF INCA TRAIL
WITH OUR SUPPORT CREW ON INCA TRAIL

LAST CAMP SITE - SUNSET AND MOON RISE AND MOUNTAINS

HERE WE GO - START OF THE INCA TRAIL

ROOF PARK - CANARY WHARF
LEADERS COMPLETE FIRST AID IN THE FIELD

TASTER SESSION FOR STAFF OF BORIS AT CITY HALL - LONDON
PLANT AND FLASH - LESU LED BOOTS
GRYNNE FAWR ROUTE - BLACK MOUNTAINS OF SOUTH WALES

BLUSTERY OFFAS DYKE EXPED

A COOL VICTORIA DOCK NORDIC WALK!

HOMERTON BEAMFIT

ITS ALL YOU NEED!

SHARD EXPED
EMA POLERS CLUB - CANARY WHARF
GETTING THE M AND M MAN FIT!

RAME HEAD - SW EXPED

CAWSAND SW PATH - DARTMOOR EXPED

HAYTOR TOR

PRINCETOWN TO GUTTER TOR - TOP OF HAYTOR TOR

WELLNESS SMOVEY SESSION - CRICKHOWELL - S WALES

AND RELAX!
GRYNNE FAWR DAM, S WALES EXPED

MT NORDIC WALKING LEADERS NIGHT

TRAILWALKER 2 - GURKHA CHALLENGE (23.5 HRS!)

FULL TEAM - TRAILWALKER 2
NORDIC WALK UNDER THE THAMES!

CAUGHT!!

NORDIC WALKERS IN THE PUB!

VILLAGE POLERS - VICTORIA DOCK

HAINULT BEAMERS CLUB
CITY HALL - FOR STAFF OF BORIS
LORD HEREFORDS - BLACK MOUNTAINS EXPED
SNOW SHOEING - CHAMONIX EXPED

AND RELAX - CHAMONIX
X COUNTRY SKI - CHAMONIX EXPED

ITALIAN SIDE - CHAMONIX EXPED
VILLAGE POLERS - TRINITY BUOY WHARF
FITNESS WITH BOYGUES WORKERS - CANNING TOWN PROJECT

PRE WORK FITNESS - BOYGUES WORKERS - CANNING TOWN PROJECT

TOP OF THE O2 ARENA, LONDON

TRAILWALKER 1

FRENCH ALPS EXPED

APPROACH TO PEN Y FIN - BRECON BEACONS

BRECON BEACONS EXPED

BEAMFIT UEL SPORTSDOCK EAST LONDON

UEL SPORTS DOCK BEAMFIT
BEAMFIT SESSION - BAND STAND BATTERSEA PARK

I FITNESS BUGGY CLASS

MOMS CLASS - I FITNESS BUGGY

I FITNESS BUGGY CLASS - MOMS AND BABIES FITNESS

BRITANNIA VILLAGE BOOT CAMP BVBC

1ST PICNIC IN PARK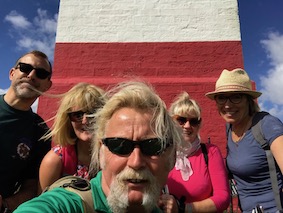 Adventure walks in Cornwall happen once per month - last weekend it was Fowey to Gribben point also the sw coastal path, an example of it not being distance done that dictates the activity level, with steep inclines a declines, along with the fantastic Cornish views it proved to be a gr8 day…